Industrial Strength Characters

Richard Henzel's historical impressions created for meetings, banquets, films, and television programs.
---
Scroll down, or click on thumbnails for larger photos and more info on these and other characters.
---
__________Mark Twain_______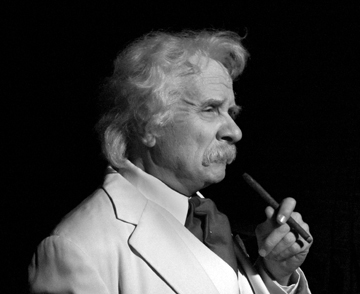 ____________photo by Al Brandtner
Click for more on Mark Twain In Person. Clients/Venues have included: Media Projects, TBA Corporate Communications and Entertainment, CNA Insurance, Williams Gerard Productions, Queen Elizabeth's Silver Jubilee (Great Britain), Bailiwick Repertory, General Motors, McDonald's, Million Dollar Round Table, Encyclopedia Britannica, Coronet Films, Marion Merrill Dow Pharmaceuticals, Rotary International, "All Things Considered," National Assn. of Realtors, Glenmore Distilleries, Days Inns, Royal Viking Cruise Lines, Society of Exploration Geophysicists, Underwriters' Laboratories, Armed Forces Radio &Television, World Book Encyclopedia, Steele Surgical Supply, WTTW-TV, Illinois Bell, Catholic Charities, etc. Plus Theatres, Colleges, and Arts Councils in 40 States, Canada, and U.K.
In September in New Orleans, Varian Medical Systems invited "Mark Twain" to join them for the 2002 ASTRO Convention there...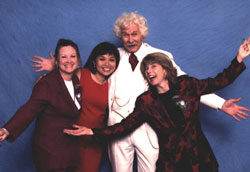 Pictured from the Varian production team (l to r): Pat Vuich, Rosie Dinh, Henzel, Fayne Muldoon.

---
Lord Richard Buckley
photo by Whit Spurgeon
The Return of the Hip Messiah at Second City Skybox (Prop Thtr Company), The Bugbird on WBEZ 848 radio program, The Hip Messiah and is appearing 7pm Sundays this November and December at Marc Kelly Smith's Chicago Poetry Slam at The Green Mill Tavern and Fitzgerald's; also Hi Ricky's in Chicago. Who was Lord Buckley? Answers are HERE.

---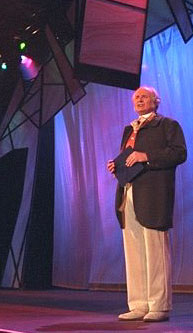 Captain Thomas Sullivan
Williams Gerard Productions'
The YMCA Story
(film),
YMCA 150th Birthday Celebration
In the summer of 2002 in New Orleans, I played Captain Thomas Sullivan, founder of the American YMCA, for their 150th Birthday Conference there. I had the pleasure of sharing the stage with such greats as: Art Linkletter, Peter Jennings, Ray Charles, Peter Paul and Mary, and the amazing Mr. Fred Rogers (pictured below).

What a wonderful man he was. I thanked him for being there for my kids when they were little.
He said, "Do you have teenagers?"
I said, "Yes."
He put a hand on my shoulder and asked, as if he were reading my mind: "How's that going?"
He read the answer in my eyes, squeezed my shoulder, and said reassuringly, "Hang in there. You'll get through it."
---
Albert Einstein
Heidelberg Presses, Olympus Total Endoscopy, Varian Medical, etc.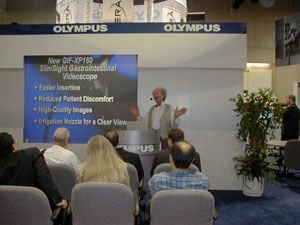 Here I am, as Dr. Albert Einstein, presenting Olympus' new line of gastrointestinal scopes
during Digestive Diseases Week in San Diego.The show was ably produced by Live! Marketing.
---
Benjamin Franklin


1776, Universal Underwriters, Varian Medical Systems, etc.
First as "Einstein," and subsequently as Benjamin Franklin (pictured above with Varian Medical's Project Manager Fayne Muldoon) and most recently as Mark Twain, I have presented Varian Medical's SmartBeam cancer therapy system in Boston, Chicago, New Orleans, San Antonio, and San Fransisco.

---
Lyndon Baines Johnson
Henzel as LBJ, with Jeff Still as Mayor Richard M. Daley, debating Viet Nam over Johnson's famous "sand box"
The Khe Sanh Bagman: The Boys in the Valley by Leigh Johnson; Armed Forces Radio and Television; Feiffer's America
---
Frank Lloyd Wright
photo by Ebert Photography
Notre Dame University School of Architecture, Baliwick Repertory, Unity Temple Restoration Foundation at Unity Temple, "Frank Lloyd Wright and the Prairie School" broadcast nationally on PBS (written, produced, and directed by Joe Federici)
---

Christopher Columbus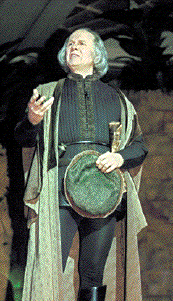 photo courtesy S.C. Johnson Wax
For S.C. Johnson Wax, produced by Media Projects

---
photo by Borter Photography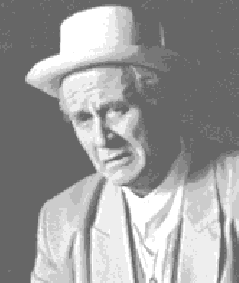 Thomas Alva Edison
S&H Motivation, Universal Underwriters, American Century Insurance, Camping with Henry and Tom



---
Samuel Curtis Johnson
Founder, SC Johnson Wax


photo courtesy SC Johnson Wax
Produced by Media Projects. 1998 International Forum and 1994 Profit Sharing Day,
Racine WI, 1992 World Forum, Laguna Niguel, CA

---
George Bush, Sr.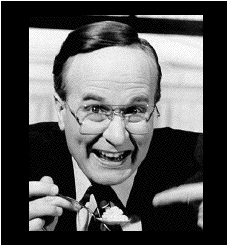 photo by Karen L. Hirsch
hairpiece courtesy of John Conlisk
Kraft Foods, Moore Business Forms, Pansophic Systems, TREK Bicycles
---
Ronald Reagan
Rap Master Ronnie;Feiffer's America; The Phil Donahue Show; Moore Business Forms; Keystone Wire & Steel; Sears Discover Card; Baird & Warner Real Estate; Three Card Monty;TREK Bicycles; ACTWU; Freeze/SANE; Milwaukee ADDY Awards; Allstate Insurance; Pansophic Systems; United Way; Variety Clubs of America; Dementia In Absentia--an Unauthorized Tribute to Ronald Reagan
---
Richard Nixon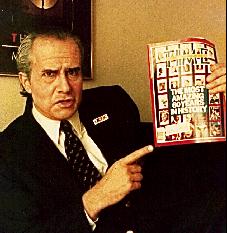 photo by Darryl Warren
GBC Paper Shredders, Pansophic Systems, Inc.
---
Paul Harris
(Co-founder, Rotary International)


photo courtesy Jack Morton Company
shown with Russ Flack as Arch Klumph
Orlando, Florida Convention of Rotary International, produced by The Jack Morton Company
---
Franklin Delano Roosevelt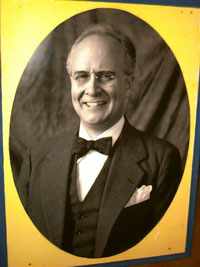 photo courtesy Paramount Pictures
"The Untouchables" (Paramount Pictures: TV Series)
---
ALSO:

Harry S. Truman and Walter Cronkite
The Society Of Actuaries 50th Anniversary Conference, San Francisco
Produced by Directions, Inc., Tom Grubbe, Producer

Abraham Lincoln
(Voice) "Gettysburg Address" Encyclopedia Britannica CD ROM
Sears, Armed Forces Radio & Television Service

Auric the Miner
Doskicil Foods, produced by Williams Gerard Productions, sharing the stage with "Father Guido Sarducci", Don Novello

Wilhelm Conrad Roentgen
Radiological Soc. of N. A.

Daniel Hudson Burnham
Illinois & Indiana Masonry Council, City of Chicago
The Old Sea Captain
AMOCO Oil Co.
The Eternal Delegate
National Association of Life Underwriters
Augustus Caesar
S&H Motivation
Morox, Man of the Future
Lighthouse Productions
Bert the Mailman
Sentry Hardware
Ted Koppel
United Way, Moore Bus. Forms, American Cyanamid
Maj. Jonathan Letterman
Founder, United States Ambulance Corps, for U.S. Dept. of Defense

and the list keeps growing...

---
For free audition tapes, CDs and and program consultation, e-mail me at rhenz@richardhenzel.com