from Following the Equator, by Mark Twain, click here to listen to "The Ice Storm"
Richard Henzel as Mark Twain filmed at the Mark Twain Home in Hartford, Connecticut.
"Mark Twain In Person"
Adapted from the writings of Mark Twain
by Richard Henzel
Directed by James Thornton
First presented in December, 1967 at Bowling Green University, Ohio
~~~~~~~~~~~~~~~~~~~~~~~~~~~~~~~~~~~~~~~~~~~~~~~~~~~~~~~~~~~~~

Visit the
FOR DOWNLOADABLE UNABRIDGED MARK TWAIN NOVELS
~~~~~~~~~~~~~~~~~~~~~~~~~~~~~~~~~~~~~~~~~~~~~~~~~~~~~~~~~~~~~

Quotes from Reviews
click links for full reviews
---

"With his wild mane of bright hair and ice cream suit, Henzel's Twain is a white knight in happy combat with human folly
...the perfect fusion of beauty and cantankerousness."
--Lawrence Bommer, Chicago Reader, April 2002

"Henzel's convincing portrayal of the author-lecturer at 71 is often disarming...
(warm, witty recollections of teenage high jinks and the comically complicated courtship of his wife Livy)... and alarming (a perplexed account of feeling guilt after killing an enemy soldier during the Civil War, which leads into a tale about a fellow who literallly murders his own conscience). The man in the white suit isn't just Mark Twain; he's every one of us who ever stifled shame as we turned away from a homeless panhandler or squelched misgivings as we celebrated the ruin of a rival.!"
--Albert Williams, Chicago Reader (Critic's Choice)

"Henzel sounds Twain to his full fathom.
He brings back a time when people loved to talk and, in cases like himself, had a seductive genius for it."
--David Elliot, Chicago Sun-Times

"... a panoply of raw-edged witticisms and embellished storytelling...
his impression is flawless. Henzel incorporates the audience's personality into a portrayal that floats in a realm of diverse universals--so whimsically illustrated in his giddily profound "soap bubble" finale.
--Lucia Mauro, Chicago Sun Times
"Henzel's characterization makes Twain seem to be standing in one's own presence...
To spend an evening with 'Mark Twain In Person' is to make one feel he has been not only entertained, but filled with the thoughts of America's most representative author."
--Caroline Thomas Harnsberger, Author of Mark Twain At Your Fingertips and longtime friend of Clara Clemens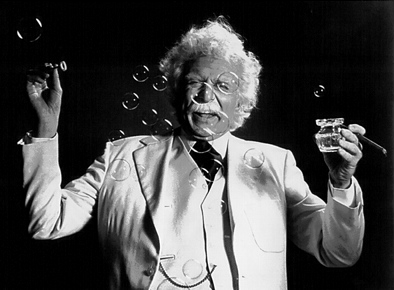 photo by Helmut Lipschis
"...surpasses the common notion of what one-man shows are capable of achieving... His Mark Twain is a down-to-earth sort of fellow, a crusty codger you'd as likely meet in a saloon as in a literary den."
--Howard Reich, Chicago Tribune
"By the witchery of his talent, reinforced by the appeal of Twain, Henzel wafted the large audience gently, irresistably back to a lecture hall of 1906."
--Harold Protsman, Herald-Times Reporter, Manitowoc, WI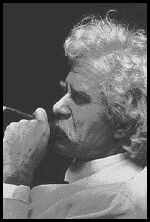 photo by Helmut Lipschis
"As an example of American theatre at its finest, Henzel is magnificent."
--Walters, Cambrian News, Cardiff, Wales
---
...On "Mark Twain's Carnival of Crime," a televised adaptation of material from MTIP...
"This little one-man play, made for WTTW-TV in Chicago in 1988, is difficult to find*,but it's so amazingly good that it's well worth the effort. The performance is a miracle of economy, conveying more energy, passion, and even physical action than one would think possible in a mere reading of a story. It may just be the best half-hour of Mark Twain ever on the screen. If it were up to me, I'd put Henzel on salary and have him apply the same magic to a dozen other Mark Twain stories and sketches."

--
R. Kent Rasmussen
author of
Mark Twain A to Z
,
The Quotable Mark Twain
,
Mark Twain's Book for Bad Boys and Girls
, and much more...
---

List of Venues
In "Mark Twain In Person" I have have had the pleasure of visiting many wonderful places performing as Mark Twain, for which I am extrememly grateful to many people, especially Pam Parsons of Parsons Artists Management, who booked the vast majority of the venues listed below. It's a fairly complete list of places, listed oldest to newest, from October, 1967 to the present.
...if I performed in your town but indavertantly omitted the name, I am very sorry; let me know and I'll correct the list. If I haven't been to your town yet, when can I come see you? You can write for information on performances near you, or to find out how you can sponsor a production of "Mark Twain In Person," email my agent, Mickey Grossman at Linda Jack Talent.

This list of venues is not guaranteed to be complete (if I've omitted out your town, let me know!); it's more or less in chronological order, going back toin 1967. Numbers in parentheses indicate number of performances.

Stormfield Theatre, Lansing, MI
Prop Thtr, Chicago, IL
Apple Tree Theatre. Highland Park, IL
Woodstock Opera House, Woodstock, IL
American Theater Company, Chicago, IL
Illinois State Fair, Springfield, IL
Marietta College, Marietta, OH
McDonald's Corporation, Oak Brook, IL
General Motors, Plymouth, MI
The Bog Theatre, Des Plaines, IL (13)
Sprint, Chicago, IL
Illinois & Indiana Masonry Association, Chicago, IL
AZTAR Corporation, Evansville, IN
CNA Insurance, Chicago IL, Dallas, TX (32)
Irvine Barkely Theatre, Irvine, CA
Rotary International, Orlando, FL
Executive Assets, Chicago, IL
Million Dollar Round Table, New Orleans, LA
Steppenwolf Theatre, Chicago, IL (19)
Keystone Wire and Steel, Chicago, IL
Day's Inns of America, Atlanta, GA
Ohio Historical Society, Columbus, OH
Lithopolis Fine Arts Council, Lithopolis, OH
Ironton Arts Council, Ironton, OH
Rio Grande College, Rio Grande, OH
Munson Williams Proctor Institute of the Arts, Utica, NY
WTTW TV, Chicago, IL
Ashburn Arts Council, Ashburn, GA
Coronet Films, Hartford, CT
Dixon Theatre Renovation Committee, Dixon, IL
Ottowa High School, Ottowa, IL
Fairmont Hotel, (Porter Memorial Hospital), Denver, CO
HInsdale Hospital, Oak Brook, IL
Encyclopedia Britannica, Chicago, IL
Lewis University, Romeoville, WI
Lawrence University, Appleton, WI
Illinois State PEO Convention, Moline, IL
Royal Viking Sea (Cruise Ship), New York, NY to Montreal, Canada (6)
Delmonico's Restaurant--" Mark Twain's 150th Birthday", New York, NY
Beattie Park Festival, Rockford, IL
Marion Merrill Dow Pharmaceuticals, Tucson, AZ (5)
Lake Zurich High School, Lake Zurich, IL
Knox College, Galesburg, IL
Western Illinois University, Macomb, IL
Our Town Players, South Haven, MI
Illinois Health Care Association, Peoria Civic Center, Peoria, IL
Catholic Charities, Waukegan, IL
Schaumburg Cultural Commission, Schaumburg, IL
Illinois Health Care Association, Peoria Civic Center, Peoria, IL
Catholic Charities, Waukegan, IL
The Red Barn Theatre, Saugatuk, MI (8)
Milwaukee Technical College, Milwaukee, WI
Freedom Hall, Park Forest, IL
Underwriter's Laboratories, Hamilton Hotel, Itasca, IL
Clinton Public Library, Clinton, IA
Little Theatre on the Square, Sullivan, IL
Hemmens Auditorium, Elgin, IL
Rutherford B. Hayes Presidential Center, Fremont, OH
Molloy College, Rockville Center, NY
Circa 21 Dinner Theatre, Rock Island, IL
Culver-Stockton College, Canton, MO
Admiral Hotel Retirement Home, Chicago, IL
Telephone Pioneers of America, Hickory Hills, IL
DePaul University, Chicago, IL
West Leyden High School, Northlake, IL
Cedar Rapids Public Schools, Cedar Rapids, IA (6)
First Community Village, Columbus, OH (2)
Avery County Arts Council, Banner Elk, NC
Kinston Arts Council, Kinston, NC
St. Mary's College, South Bend, IN
Hillsdale College, Hillsdale, MI
Pacific Union College, Angwin, CA
Litchfield Cultural Arts Society, Litchfield Park, AZ
Carthage College, Kenosha, WI
Steele Surgical Supply, Waukegan, IL
Mohawk Oil, Lowell, OH
Queensborough College, Bayside, NY
The Admiral Hotel, Chicago, IL
Judson College, Marion, AL
Pinal County Arts Council, Coolidge, AZ
"All Things Considered", NPR, Washington, DC (4)
Dave Baum Show, WIND, Chicago, IL
Christiansen Prairie, Lincoln, NE
WMAQ TV, Chicago, IL
Southfield Public Library, Southfield, MI
Homewood Flossmoor Park District, Homewood, IL
Farmer's National Bank, Stow, OH
Rep. Tom Sawyer for Senate Fund Raiser, Akron, OH
Motorola Corporation, Chicago, IL
Glenmoor Distilleries, Boca Raton Club & Hotel, Boca Raton, FL
Glenbard South High School Glen Ellen, IL
Oak Park River Forest High School, Oak Park, IL
Glenview Library, Glenview, IL
College of Visual and Performing Arts, Northern Illinois U., DeKalb, IL
Snowmass Theatre, Snowmass, CO (3)
University of Waterloo, Waterloo, ONT, Canada
Wright State University, Dayton, OH (2)
Lake Powell Concert Assoc, Page, AZ
Northland Pioneer College, Show Low, AZ
Mojave Community College, Bullhead City, AZ
Mojave Community College, Lake Havasu City, AZ
Mojave Community College, Kingman, AZ
Grand Palace Hotel, Denver, CO
Civic Center of Des Moines, Des Moines, IA
Weinstein Center, Evanston, IL
Toronto Badminton & Racquet Club, Toronto, Ontario, Canada
First National Bank of Marengo, Marengo, IL
Wonder Lake State Bank, Wonder Lake, IL
Brooklyn Center for the Performing Arts, Brooklyn, NY
Munster Rotary Club, Munster, IN
LBW Community Arts Council, Andalusia, AL (2)
University of Illinois, Circle Campus, Chicago, IL
Kent State University E. Liverpool, East Liverpool, OH
Lake Forest College, Lake Forest, IL
Eastern Wyoming College, Torrington, WY
Northwest Federal Savings, Chicago, IL
SUNY Fredonia, Fredonia, NY
College of the Holy Cross, Worchester, MA (2)
Worchester Polytechnic Institute, Worchester, MA (2)
College of Lake County, Grayslake, IL
Shaker Heights High School, Shaker Heights, OH (5)
New American Theatre, Rockford, IL (18)
Lincoln Library, Springfield, IL (2)
Rockford Women's Club, Rockford, IL
Muskegon Community College, Muskegon, MI
Blair City Civic Music Association., Altoona, PA
Muskingum college, New Concord, OH (4)
San Juan Arts Council, Farmington, NM (2)
New Mexico Military Institute, Roswell, NM
Barrington Arts Council, Barrington, IL (2)
Richard J. Daley College, Chicago, IL
University of South Dakota, Vermillion, SD
Silver Lake College, Manitowoc, WI (4)
Delta Queen Steamboat, New Orleans, LA to Cincinnati, OH (2 trips, 7 perf)
Woodstock Opera House, Woodstock, IL (12 engagements, 28 perf)
The Aberystwyth College, Aberystwyth, Wales, UK (3)
Puppet Place Theatre, Chicago, IL (36)
Cardiff University, Cardiff,Wales, UK (3)
Body Politic Theatre, Chicago, IL (3 engagements, 104 perf)
Cleveland Music Hall, Cleveland, OH (3)
The Rusty Nail, Kent, OH (12)
Cedar Point Resort, Sandusky, OH (443)
Kent State University, Kent, OH (6)
Bechtel High School, Akron, OH (2)
Lilac Gardens, Kent, OH
Church of the Lakes, Methodist, Massillon, OH
Bowling Green State University, Bowling Green, OH (24)

---
Return to Richard Henzel's Contents Page

Page updated 3.10.05