"Superb...one of the best readings of a Mark Twain book to which I've ever listened...
and I've listened to almost all of them. An energetic and remarkably impassioned narration that brings out the powerful emotions and ironies of one of Mark Twain's complex works and adds new dimensions."
--R. Kent Rasmussen, author, Mark Twain A to Z READ FULL REVIEW HERE
The Tragedy of Pudd'nhead Wilson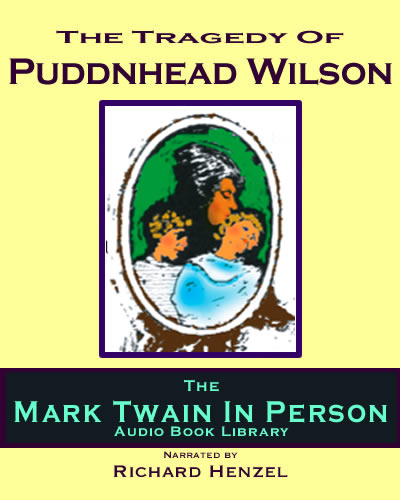 by MARK TWAIN
UNABRIDGED 5h, 35m
Narrated by Richard Henzel
Customer Reviews
Rating 5.0 "Awesome!" By: Kelleigh (Anchorage, AK, USA) November 14, 2008
"As a huge Twain fan, this is definitely one of his better works. It is full of interesting, well-developed characters, deception, and suspense,
and Richard Henzel does a superb job of feeding those characteristics!"

Rating 5.0 By: taters4444 (Fallon, NV, USA) October 12, 2008
"This book is right up there with huckleberry finn.... one could easily make a case for it being Twains' best book...you will love it"

Rating 5.0 "great reader, great tale" By: karyon (New Haven) October 28, 2007
"I just loved this recording. I wish I could find more of Twains works with this narrator. He does an outstanding job. I would recommend this book to anyone; and in this case, with such an excellent reader, I would rather listen to it than read it off a page--he adds so much."
LISTEN TO SAMPLES:
Roxy Commands (Warning: contains spoilers)
Order the download from this website, and I'll also include with this title: Mark Twain's hilarious burlesque
Those Extraordinary Twins
unabridged 2h, 20m
A man of many firsts, Mark Twain was the first author to use the typewriter, as well as the first private citizen to have a telephone in his home (which no doubt made him the first person to swear at tech support!). He also patented the accordion file, the fountain pen, and adjustable suspenders. And when he published "deleted scenes" from "Pudd'nhead Wilson" as "Those Extraordinary Twins" he became the first publisher to include "bonus tracks" along with the finished work.

Mark Twain explains: "...as a short tale grows into a long tale, the original intention (or motif) is apt to get abolished and find itself superseded by a quite different one. It was so in the case of a magazine sketch which I once started to write--a funny and fantastic sketch about a prince and a pauper; it presently assumed a grave cast of its own accord, and in that new shape spread itself out into a book. Much the same thing happened with Pudd'nhead Wilson, because it changed itself from a farce to a tragedy while I was going along with it--a most embarrassing circumstance. ...it was not one story, but two stories tangled together; and they obstructed and interrupted each other at every turn and created no end of confusion and annoyance. So I pulled out the farce and left the tragedy. "
Site designed and maintained by Richard Henzel copyright©2012
ALL RIGHTS RESERVED, INCLUDING REPRODUCTION, DUPLICATION, OR BROADCAST IN ANY FORM
Powered by www.promocodesoftware.com