***************************************************
A Connecticut Yankee In King Arthur's Court UNABRIDGED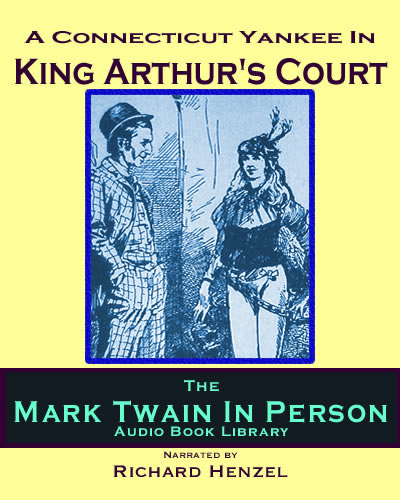 Narrated by Richard Henzel 13hr 39min
Hank Morgan is a mechanic, engineer, and a foreman at the Colt Arms Factory. One day he gets into an argument "conducted with crowbars" with an employee known as "Hercules." A blow to Hank's head sends him back to King Arthur's England in the Sixth Century. Quickly becoming a newspaper tycoon, an inventor, a showman, politician, and one-man military industrial complex, Hank rises to a position of power second only to King Arthur himself, ultimately challenging all of knight errantry and even the established Church. A remarkably prescient tale, replete with brilliant humor, exciting action, biting satire, and awe-inspiring philosophy, this book shows off Mark Twain's full range of incredible storytelling gifts and his remarkable philosophies of economics, religion, and politics.
Listen to a sample by clicking HERE...
A link to your downloadable files will be sent to you in an email "from Richard Henzel via YouSendIt"


Cover art for the mp3 CD version of this book.

For TECH SUPPORT or questions,
email rhenz@richardhenzel.com and leave a message. Thanks!
Save money--and the Planet!--Fast delivery--No Shipping Costs--No Plastic--No Fuel--No Pollution

---
Mark Twain In Person Audio Books are also available at these fine resellers:
amazon.com******learnoutloud.com*******audible.com
RETURN to The Mark Twain In Person Audiobook Library
Site designed and maintained by Richard Henzel copyright©2012
ALL RIGHTS RESERVED, INCLUDING REPRODUCTION, DUPLICATION, OR BROADCAST IN ANY FORM
Powered by www.promocodesoftware.com