The Best of Mark Twain In Person Vol. 1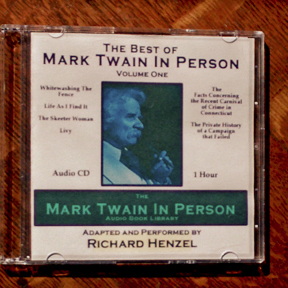 Over an Hour of Material--Mark Twain's thoughts on:
• WORK • LIFE • LOVE • CRIME • WAR •
Studio recorded Audio Selections from Richard Henzel's celebrated one-man play.
• Whitewashing The Fence • Life As I Find It • Livy • Carnival of Crime in Connecticut • The Skeeter Woman • The Campaign That Failed •
Click on the titles below to hear short Quicktime samples...
***REVIEWS OF "MARK TWAIN IN PERSON"***




Public Libraries: this title is also available from Midwest Tapes
---

photo of James Thornton in 1980 by Vince Cardinal
Mark Twain In Person Director, Teacher and Mentor James D. Thornton
Please note that this recording can be downloaded directly to your computer from the internet!!
Save money--and the Planet!--No Plastic--No Fuel--No Pollution