The Adventures of Huckleberry Finn, by Mark Twain
Narrated by Richard Henzel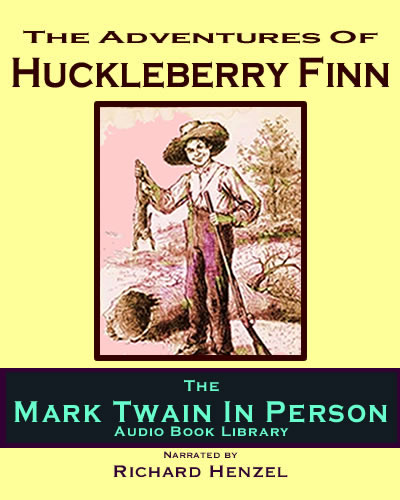 Unabridged. 11 Hours, 20 Minutes.
This is an unblinking portrait of American society during slave times, as seen through the eyes of the title character, who narrates the tale. Thirteen-year-old Huck escapes from his alcoholic and abusive father in a stolen canoe. He hides on an island, where he finds Jim, a runaway slave. The two set off down the Mississippi on a piece of a raft, each in search of their own kind of freedom. Some critics have condemned Huck's attitudes towards slavery, his treatment of Jim, and his derogatory language, citing it as evidence that Mark Twain was a racist. But as noted African American author Ralph Ellison writes, "...one also has to look at the teller of the tale, and realize that you are getting a black man, an adult, seen through the condescending eyes -- partially -- of a young white boy." Perhaps these critics are making the mistake of confusing the author with the character?
Please note that you can download this recording directly into your computer from the internet!!
Save money--and the Planet!--Instant delivery--No Shipping Costs--No Plastic--No Fuel--No Pollution
Downloadable files will be sent to you within 24 hours via an email "from Richard Henzel via YouSendIt"


Cover art for the mp3 CD version of this book.

For TECH SUPPORT or questions,
please call (609)200-1077, 24/7, or email rhenz@richardhenzel.com and leave a message. Thanks!
Public Libraries: for custom library packaging, please visit Midwest Tapes
****************************************************************************************
Site designed and maintained by Richard Henzel copyright©2012
ALL RIGHTS RESERVED, INCLUDING REPRODUCTION, DUPLICATION, OR BROADCAST IN ANY FORM
Powered by www.promocodesoftware.com