Those Extraordinary Twins (unabridged)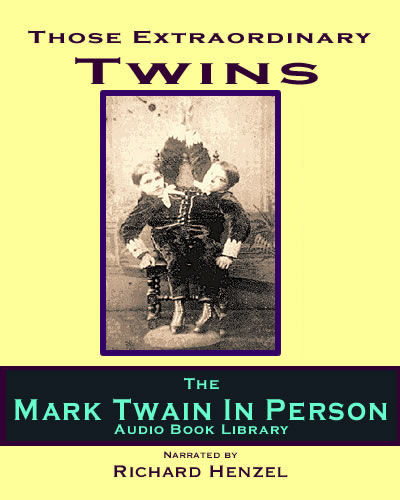 2 hours 20 minutes
A man of many firsts, Mark Twain was the first author to use the typewriter, as well as the first person to have a telephone in his home (which no doubt made him the first person to swear at tech support!). He also patented the accordion file, the fountain pen, and adjustable suspenders. And when he published "deleted scenes" from "Pudd'nhead Wilson" as "Those Extraordinary Twins" he became the first publisher to release "bonus tracks" as well as the finished work. Narrated by American actor and Mark Twain interpreter Richard Henzel, whose "Mark Twain In Person" has been seen over a thousand times in the U.S., Canada, and Great Britain.
"...as a short tale grows into a long tale, the original intention (or motif) is apt to get abolished and find itself superseded by a quite different one. It was so in the case of a magazine sketch which I once started to write--a funny and fantastic sketch about a prince and a pauper; it presently assumed a grave cast of its own accord, and in that new shape spread itself out into a book. Much the same thing happened with Pudd'nhead Wilson, because it changed itself from a farce to a tragedy while I was going along with it--a most embarrassing circumstance. ...it was not one story, but two stories tangled together; and they obstructed and interrupted each other at every turn and created no end of confusion and annoyance. So I pulled out the farce and left the tragedy."
---MARK TWAIN
LISTEN TO AN AUDIO TRAILER HERE...
BUY GREEN! CLICK HERE to download this unabridged recording directly into your computer from the internet!!
Downloadable files will be sent to you within 24 hours via an email "from Richard Henzel via YouSendIt"
Also available at
audible.com & itunes
(but please buy direct--from me!)
Public Libraries: please contact me for special library packaging and prices
Site designed and maintained by Richard Henzel copyright©2012
ALL RIGHTS RESERVED, INCLUDING REPRODUCTION, DUPLICATION, OR BROADCAST IN ANY FORM
RETURN to The Mark Twain In Person Audiobook Library
Powered by www.promocodesoftware.com