The Mark Twain Forum reviews Is Shakespeare Dead? read by Richard Henzel:
"...Twain's words and Henzel's voice are at perfect pitch, but the entire audio book is a tribute to Twain's comic sense and word-play....If Is Shakespeare Dead? is one of Mark Twain's works that you've resisted reading until now, this audio book is an enjoyable way to experience one of Twain's last autobiographical writings."
Kevin Mac Donnell, in The Mark Twain Forum. Read full review HERE.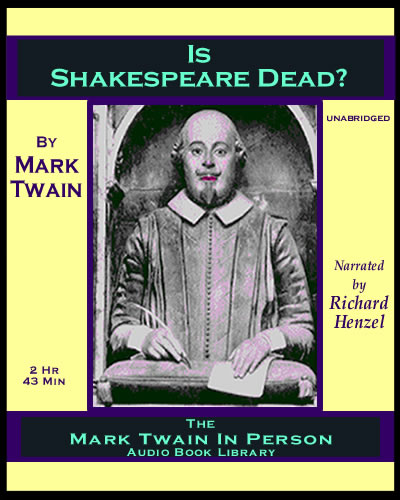 2 hours, 43 minutes. ISBN 978-0-9826688-6-3(CD)/978-0-9826688-7-0 (DL)
Mark Twain's view of the way historians have written Shakespeare's biography:
"It is the very way Professor Osborn and I built the colossal skeleton brontosaur that stands fifty-seven feet long and sixteen feet high in the Natural History Museum, and is the awe and admiration of all the world, the stateliest skeleton that exists on the planet. We had nine bones, and we built the rest of him out of plaster of Paris. We ran short of plaster of Paris, or we'd have built a brontosaur that could sit down beside the Stratford Shakespeare and none but an expert could tell which was biggest or contained the most plaster."
Downloadable files will be sent to you within 24 hours via an email "from Richard Henzel via YouSendIt"


Cover art for the mp3 CD version of this book.


Also available at
audible.com & itunes
(but please buy direct--from me!)
Public Libraries: please contact me for special library packaging and prices
RETURN to The Mark Twain In Person Audiobook Library
Site designed and maintained by Richard Henzel copyright©2012
ALL RIGHTS RESERVED, INCLUDING REPRODUCTION, DUPLICATION, OR BROADCAST IN ANY FORM
Powered by www.promocodesoftware.com