"...while it's important that Henzel's narrative voice is a pleasant Twainian timbre without actually trying to be a Twain impersonation, it is his handling of the dialogue which becomes even more important as the listener prepares for more than seven hours of listening. Lucky listener..."
--Kevin Mac Donnell, The Mark Twain Forum
(read full review HERE)
"A real enhancement to Henzel's growing library of Twain recordings; an essential acquisition."
--R. Kent Rasmussen, Library Journal
(read full review HERE)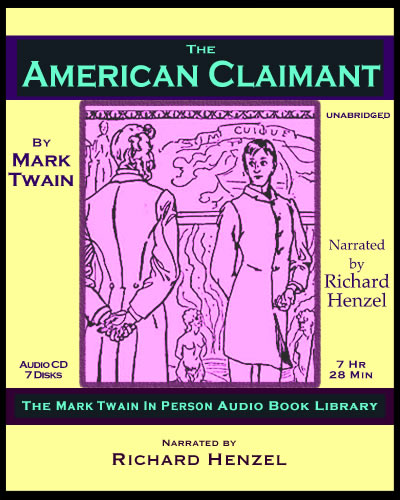 Young Lord Berkeley has discovered that his family's title and wealth was obtained illegitimately, generations ago. He announces to his his father, the Earl of Rossmore, that he intends to travel to America, there to cede the Earldom to the rightful heir, along with all of its wealth, titles, and privilege, and to begin his life over again—"begin it right—begin it on the level of mere manhood, unassisted by factitious aids, and succeed or fail by pure merit or the want of it," he tells his father. As it happens, "The Rightful Earl" is an imaginative and enterprising attorney/inventor/office-seeker known as Colonel Mulberry Sellers. While less familiar to Mark Twain fans than Tom Sawyer, Connecticut Yankee, or Huckleberry Finn, The American Claimant is a delightful tale, told with Mark Twain's trademark American humor, his biting social satire, and his well-drawn characters. Narrated by American actor and Mark Twain interpreter Richard Henzel narrates, whose "Mark Twain In Person" has been seen over a thousand times in the U.S., Canada, and Great Britain.
Please note that this recording can be downloaded directly to your computer from the internet!!
Save money--and the Planet!--No Plastic--No Fuel--No Pollution
"This book was a real delight! One of Twain's lesser known works, I had never even heard of it until a GoodReads friend recommended it to me. I'm a bit surprised The American Claimant is not more widely read, as Twain's humor and gift of farce really shine in this short but wonderfully comical and romantic little tale. The audio version narrated by Richard Henzel (who, admittedly is above-said GoodReads friend) is superbly done. I have listened to literally hundreds of audio-books and it is rare to find a narration so well-acted and effortlessly performed. His passion for the story really brought the characters to life. I would recommend this without hesitation to any and all Twain fans."
--------------- Laurel, GoodReads audio-book blogger
Also available at
audible.com & itunes
(but please buy direct--from me!)
Please see your MIDWEST TAPES catalog for special library packaging and prices
RETURN to The Mark Twain In Person Audiobook Library
Site designed and maintained by Richard Henzel copyright©2012
ALL RIGHTS RESERVED, INCLUDING REPRODUCTION, DUPLICATION, OR BROADCAST IN ANY FORM
Powered by www.promocodesoftware.com